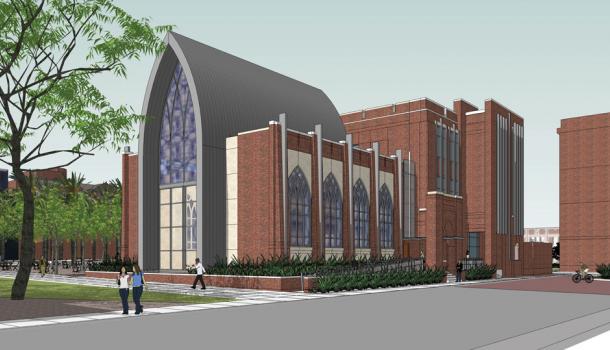 The Tom Benson Jesuit Center will serve the needs of new generations of Loyola students, faculty, staff, and alumni, as well as Catholics and all people of good will and various faiths in the Archdiocese of New Orleans and beyond. The center will provide dramatically enhanced opportunities for collaboration in teaching as well as service to God and God's people. It will be a beautiful, inviting space where students, faculty, and the entire Loyola community gather, worship, and learn.

Inspired by the project, Mr. Benson, a New Orleans business leader and philanthropist who studied at Loyola, has pledged a leadership gift of $8 million to establish the Tom Benson Jesuit Center. We now seek an additional $8 million to fully fund the new building, which will bring together many entities that are currently dispersed across campus. Loyola's Jesuit mission will remain instilled in every aspect of life at Loyola, while the new center gives a living home to its strongest advocates.

The Architecture at a Glance
The Tom Benson Jesuit Center will include:
The Chapel of St. Ignatius, outside of which will be a gathering area of large tiered steps
A library of Jesuit resources and space for study and discussion
An interfaith chapel for non-Catholic students or anyone in search of a quiet place for reflection
Versatile spaces for seminars, workshops, and conferences
Administrative offices for our ministry and service organizations
The Magis Lounge, which opens to a deck on the roof
A suite of classrooms for use by Loyola and our community partners

Help Create the Tom Benson Jesuit Center
Loyola University New Orleans seeks $8 million in philanthropic investments to fund the creation of the Tom Benson Jesuit Center. The project presents a number of naming opportunities, which are available according to university guidelines. Some of these are detailed below.
The Chapel of St. Ignatius
Pews and seating
Interfaith Chapel
Windows
Statues
Artwork
Organ
Baptismal Font
Holy water fonts
Altar
Conferences Rooms
Classrooms
LUCAP Office
CELTS Office
Study & Gathering Spaces
Jesuit Resource Library
Multimedia room